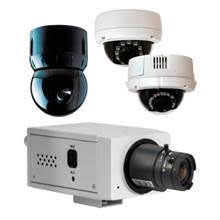 A camera security system or shortly CCTV (Closed Circuit Television) is a good way to decrease criminality on the public realm. CCTV could prevent criminality because of its deterrent effect. But mostly it plays an important role afterwards. The saved images can be helpful for detection by you or the police department.
QSC offers three systems: Analog, High Definition (HD) and Internet Protocol (IP) cameras. The last category is most recently developed. Until now, IP cameras uphold best quality image. Next to the type of camera we also offer varifocal cameras (which can be set up in a wide or a specific way), wide angle cameras and PTZ (Pan Till Zoom) speed domes. Those are cameras which can be controlled from a distance to zoom in to a specific target.

CCTV can be an extension to your vision and shows more than you normally see with your own eyes. Cameras are ideal as an extension of other security systems such as intrusion protection systems, fire detection and/ or access control. In this, IP cameras are most suitable because the software on these cameras enables them to:
License plate recognition

: a license plate in the camera image is automatically recognized and read. Allowing it to be used as input for access control.

Face recognition

: facial recognition automatically takes out the face of a camera image and compares it to other faces. Face recognition is used for verification in access control and, under conditioned circumstances, also as identification.

Object analysis

: this is a comprehensive statement for various types of video analysis, such as fence detection, stationary objects (drowning in the swimming pool, a left-over suitcase), route detection (customer counting, deviant behavior) etc. You often find motion detection in digital video recorders. The advantage of object analysis in comparison with motion detection is that the interference of the weather can be excluded and therefore also be used outdoors.
Next to these opportunities we offer a broad range of recorders. We supply Network Video Recorders (NVR) by ExacqVision, NVRs and DVRs (Digital Video Recorder) by VideoEdge and smaller recorders by Holis. Flexibility in cameras and recorders make it possible to design CCTV for almost every situation.
Would you like to know more on camera security by QSC? Please click here or give us a call on (+597) 531735.
You can also fill in the contact form so we can contact you. A sales representative can visit you to inform you about the various possibilities and make you a free offer according to your needs and wishes.