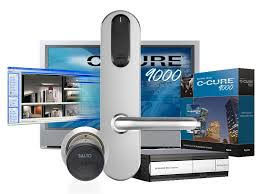 Did you know you can protect your building with more than just access control alone? Access control makes sure your employees can enter the building where others may not. It's also possible to exclude part of your employees to access certain areas you wish for to remain closed, like safe rooms, mainframe rooms, etc. Also companies with a public function such as hospitals, banks, insurance companies, etc. can secure their building on this way without losing their accessibility.
Next to access control to secure your doors, elevators and barriers you can upgrade your safety level by a software package to see who went where at what time. Reports can be made. Moreover, this software package enables you to integrate various security systems to your access control system such as intrusion protection systems, fire detection systems and camera security on a screen. This way you can monitor all your systems at once. For instance, you or your security officer receive an error message on screen. The nearest camera is called to control why an alert was triggered. In case of a fire alert you get immediate insight in what area what sensor is going off (smoke detector, heat detector or a handheld detector). This valuable information can be passed on to the fire department at once letting them know exactly where to go to without losing precious time.
Access control and its software are suitable for small companies as well as large ones. It doesn't matter whether you need one or more doors to secure. Medium size or large companies with multiple locations can be connected and monitored with the same software. Companies with the headquarter in Paramaribo and affiliates in other places need only one software package. Even though there are different door controllers, electronic locks and/ or different magnetic locks they can be managed by one system. This way you know exactly who enters a specific (secured) room which enlarges your safety within the entire company allowing you to deploy your employees more efficient. By granting specific rights to specific areas to a specific employee for different locations you are no longer in need of different people and lots of bunches of keys you could easily loose.
Would you like to know more on access control by QSC?
Please click here or give us a call on (+597) 531735. You can also fill in the contact form so we can contact you.
A sales representative can visit you to inform you about the various possibilities and make you a free offer according to your needs and wishes.